2019 update: Pesto STILL somehow takes up all of the bed! It's a good job that we love her so much.
Emerald City Comic Con!

Me and Stef are going to be at ECCC next month! We're not tabling, but we're doing a whole bunch of panels and signings! Check out sarahgraley.com/eccc for our full schedule!
I'll be signing at the Oni Press booth for an hour each day of the show, where you'll be able to get the following titles:
Our Super Adventure: Press Start To Begin (New Oni Press edition of the first Our Super Adventure hardback)
Kim Reaper: Grim Beginnings
Rick and Morty: Deluxe Hardcover Book Three (with voice chip!)
Rick and Morty: Lil' Poopy Superstar
Invader Zim: Volume 6
There's also going to be a Glitch ARC (Advance Reader Copy) giveaway and signing on the Saturday of the show! If you want to be one of the first to read it, come on by! Full details on my website!
Phew, it's going to be busy but we're so excited to be coming back to Seattle!
We're also doing a signing just before ECCC on Wednesday 13th March at Phoenix Comics and Games in Seattle, from 5-7pm! I'll be signing copies of Our Super Adventure: Press Start To Begin (Vol. 1) which comes out in comic shops that same day! Come celebrate the release with me! Dylan Meconis will also be there signing copies of The Long Con, so it's a perfect opportunity to get some great new Oni Press books!
Pizza Witch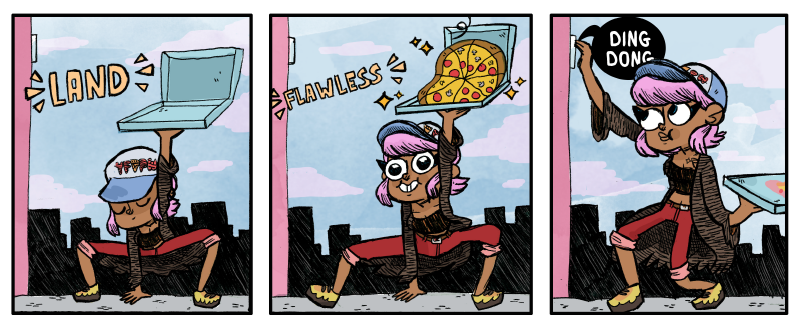 You can still grab the newly available digital edition of Pizza Witch Deluxe Edition over at https://sarahgraley.itch.io/pizzawitch! All money raised will be going towards The Albert Kennedy Trust, a UK charity that helps out LGBTQ young people who are homeless or in hostile living environments.
Thank you to everyone who's bought a copy so far! So many people have put higher than the $5 amount too which is really wonderful – thank you so much!
Announcement – Donut the Destroyer!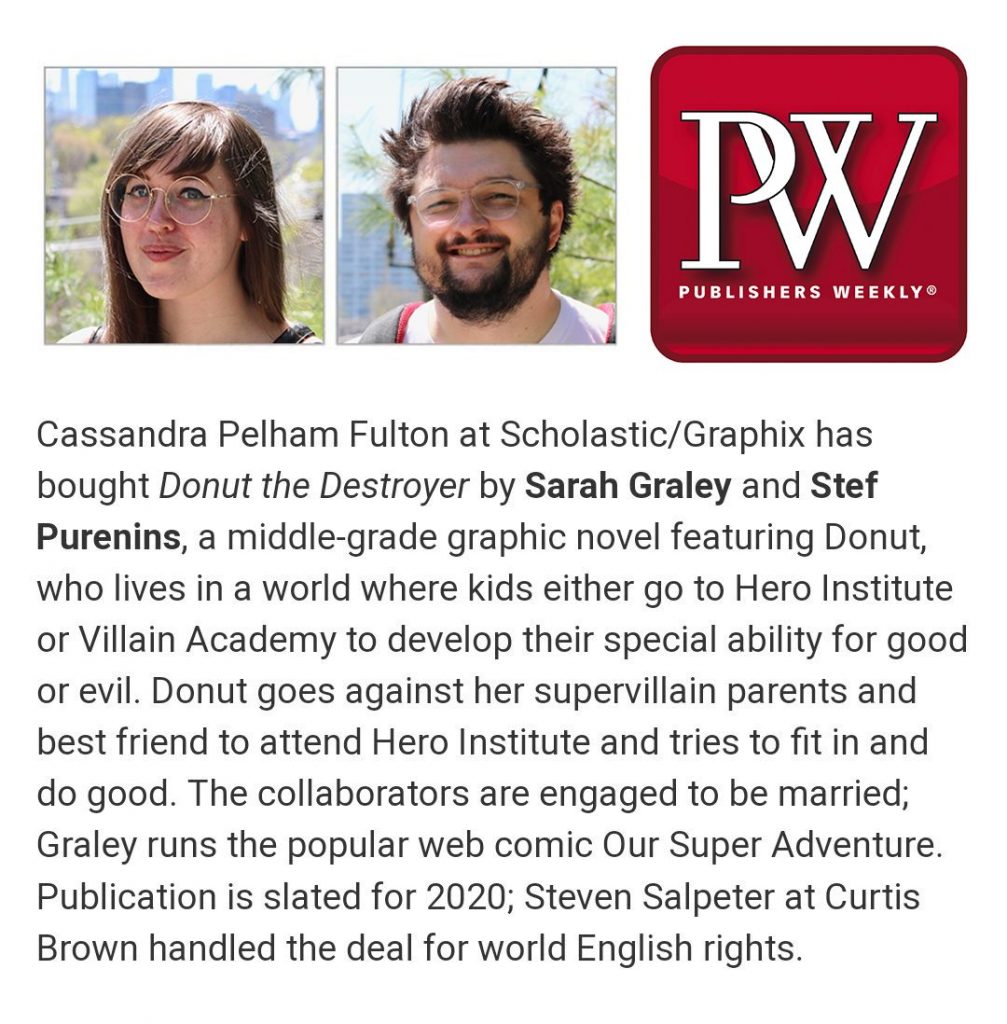 Me and Stef are working on a book together! It's called Donut the Destroyer and Scholastic Graphix will be publishing it in 2020! So exciting! We definitely owe a huge thank you to our wonderful editor Cassandra, and our incredible agent Steven! We're excited to get this graphic novel into the world!