Toby! We love you but you can't have our muffins! They're not for you! 🙀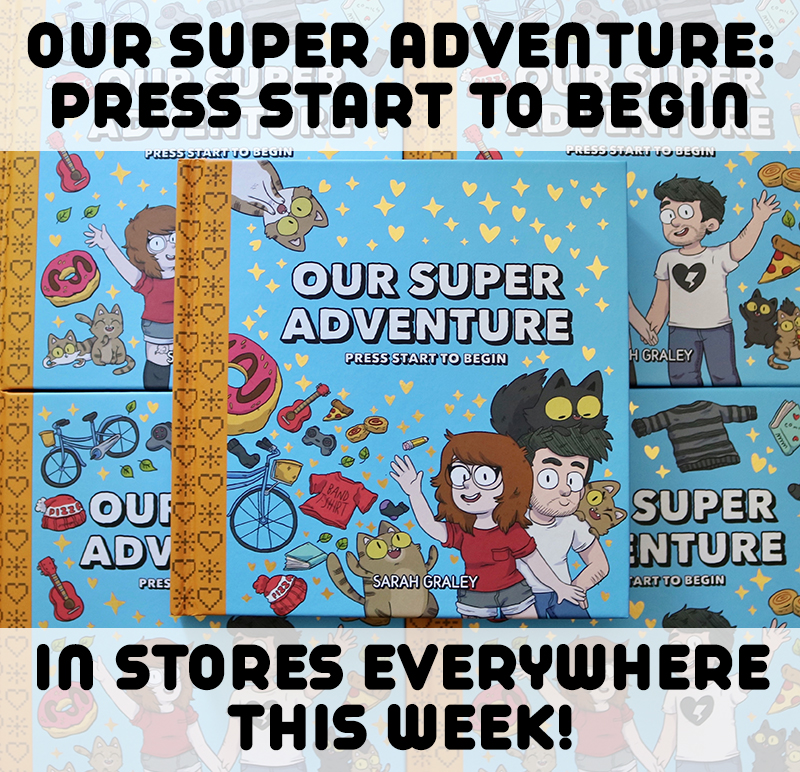 Heya! The first Our Super Adventure book is officially released in stores THIS WEEK! You can get it from all good book and comic shops – and if they don't have it, they'll be able to order it for you! It's called Our Super Adventure: Press Start to Begin, it's published by Oni Press, and it contains 200 comics about cats, relationships and pizza! Here are some quick links to order online:
Amazon (US)
Amazon (UK)
Barnes and Noble
Indiebound
Dunfermline Comic Con – this weekend!
Also this week, I'm going to be at Dunfermline Comic Con in Scotland on Saturday! Come say hi! It's the UK debut of the new edition of Our Super Adventure Book 1, and also the debut of my new enamel pins! Here's a few of the pins that I've revealed so far on Instagram…
View this post on Instagram
Emerald City Comic Con Blog!
If you want to see what we got up to in Seattle, I put a pretty lengthy blog post up on sarahgraley.com! Go check it out!